Peels are minimally invasive procedures in which an acid-based solution is applied to the face and/or decolletage to remove dead skin cells. After several minutes the solution is removed, revealing smoother, more refined-looking skin. Peels can be done regularly to help maintain your skin's healthy glow.
Mega Peel Microdermabrasion
Can rejuvenate all skin types by removing dull or damaged skin cells, and stimulating the production of new skin cells and collagen. It's ideal for anyone who wants to improve their appearance and reverse the signs of aging.
Permanent Make-up or Tattoos:
Allows you to always look your best 24/7, no matter what you're doing
Perfect for young or old, those who can't wear traditional make-up because of sensitivities or allergies, a busy or outdoor life style, or just not able to get those brows even.
Complements your skin and hair colors
Safety and cleanliness is our priority when applying permanent makeup.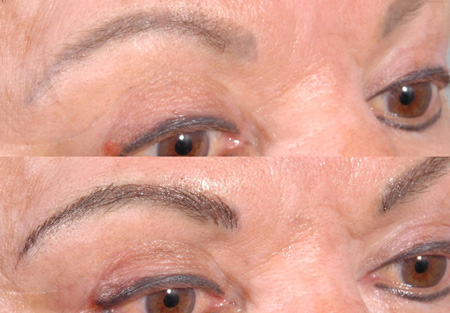 This is an example of eyeliner and eyebrow tattooing. You can opt to do one or both and the colors will be customized for each individual.